FAQ
How can I place an order?
Browse our products and add to cart. Our website is streamlined for your printing orders.
Can I split a 5000 order into 2 Jobs of 2500 Each?
Unfortunately each file you submit will be printed the same 5000 times. We also offer quantities of 1000 if you need to split up orders in smaller amounts but ordering 5000 in bulk will most likely be a better price.
Where do I upload my artwork?
You will be prompted to upload your artwork upon completing checkout. For every product you ordered, you will be given an upload option for that individual product.
Is 5000 the lowest quantity you offer?
No. You can view lower quantities by changing the Paper option in the pricing calculator. Each paper stock gives you different quantity options. For example: 16pt will give you the 1000 quantity while 12pt will give you the 5000 quantity. Keep in mind that each product is different.
Where do I enter my coupon code?
You will be promopted for the coupon code on the checkout page.
What is 4/0 and 4/4?
4/0 Full Color front, white on the back • 4/4 means full color 2 both sides. The number 4 represents 4 colors (Cyan, Magenta, Yellow and Black) that make your order.
What is a gang run?
A gang run consists of multiple client orders printed on a sheet side by side. Multiple clients orders are put on this large sheet and ran in different quantities such as 5000 or 1000. Once the printing is done they are then cut into individual orders and boxed which is how you receive your jobs. This is the reason we can give you these great prices because the cost of printing, running plates and everything involved in your job is split by everyone.
What is UV Coating? What is Glossy?
UV Coating is a thin film that is applied to your order to give a shiny gloss. You may write on UV Coating with a Sharpie or nice pen but most pens wont work. Our normal card stock is considered "Glossy" because it has a small shine to the paper itself. If you need to write on your order or mail your orders, we suggest you ask for the NON UV or GLOSSY finish. Please note an AQ Finish is added to all NON UV jobs to keep the color in tact but please check with your mailing company if they accept the order with AQ finish.
What is rich black and how can I get it?
Rich black is an ink mixture of solid black, 100% K, with additional CMY ink values (see article). This results in a darker tone than black ink alone. If you print black alone as 100% K, the resulting black may not be as dark as you might like.
100% K ON SCREEN

100% K AFTER PRINT

We recommend using
C 60 M 40 Y 40 K 100
This will give you a deep, dark, rich black.
** PLEASE NOTE ***
Adobe Illustrator uses 100% K as its default black. So please make sure you adjust your black values to C 60 M 40 Y 40 K 100 before submitting your job.
What is the return policy on order?
All sales are final! We do not refund. The funds will be placed on your PK Graphics account as a credit for 30 business days.When utilizing your credit please submit your order request to us via email to: info@pkgraphics.com
If there is something wrong with my order, what are the steps needed?
If an order is damaged you must send your claim within 5 Calendar days from your delivery date to claims@pkgraphics.com. A manager will return your call the following day or same day regarding your claim. Please keep in mind that in some cases you may need to to return the merchandise and PK Graphics does not cover the cost of shipping on returns. Claims may take 1-2 Business day to resolve and will be handled in the order as they are received. We understand that all orders are time sensitive and will try everything in our power to look into your claim as fast as possible. If no claims are made within 5 Calendar days, the client is responsible for any reprints on that order.
What type of files are accepted at PK Graphics?
JPEG, TIF, PDF, EPS, PSD (Flat Files). We do not accept files such as (Print Shop, Corel Draw, Publisher, Word, Printshop). Please note we prefer Jpeg and TIF files as our first choice. It will Save you time in emailing and the files will come in as flat files which cannot be edited. If a file is submitted as an EPS, PDF or PSD, PK Graphics is not responsible for missing or embedded fonts, missing logos and anything that has been alternated by the time it is received. Please remember we do not know how you order appears until we receive it or unless we have a color proof in our hands of you job.
Will my job print exactly like it is on the screen?
An gang run order is never 100% color guaranteed. Order are considerably consistent in color but they must be designed from scratch at CMYK Color and NOT RGB. Some people design in LED monitors which may look different from Plasma or Tube monitors. Please note we are not looking at a monitor while your order is printing with multiple jobs. The rule is the setting you input for that design will be the output of the product. Variation in color may occur when colored jobs land next to you order which is random in a gang run.
What are my responsibilities concerning proofing?
We do not proof any jobs that we do not design. By the time the job is emailed to us, all edits should be final. You are responsible to reading all telephone numbers, sending proofs to your clients, addresses, resolutions, format, sizes and more. Before submitting your job please make sure the copy has been pre approved. WE ARE NOT RESPONSIBLE FOR PROOFING ANY PRINT READY JOBS.
PKGRAPHICS POLICY ON PROOFS SENT BY EMAIL OR FAX (ONLY IF WE ARE DESIGNING). THE PURPOSE OF A PROOF IS TO ELIMINATE ERRORS OR DISSATISFACTION. YOU ARE REQUIRED TO EMAIL US YOUR APPROVAL. BY APPROVING BOTH SIDES OF THE FLYER, YOU ARE INDICATING THAT YOU ARE RESPONSIBLE FOR ANY CHARGES TO RE-MAKE OR CHANGE A JOB IN THE EVENT THAT YOU SIGNED OFF ON A PROOF THAT CONTAINED AN ERROR (YOUR ERROR OR OUR ERROR) INCLUDING SPELLING ERRORS. WE ALSO REQUIRE ADDITIONAL TIME TO RE-MAKE OR CHANGE YOUR JOB AND THIS WILL EFFECT THE DUE DATE. DESIGN FEE'S ARE NOT REFUNDABLE ONCE AN ORDER HAS BEEN STARTED BY OUR TEAM.
How do I cancel a job or make a change to an order that is already in progress?
There are no cancellations or revisions accepted after the order is processed and paid.
To maintain a competitive edge, we process jobs as soon as we receive them. If your order has been placed on a run, it can not be taken off after the plates have been made. Because all of our work is custom printed to order, all sales are final. We are unable to use or recycle your printing after we have completed it.
No refunds are available on orders unless no files have been prepared. If the order has not been processed, there is no fee for cancellation. However, If an order is cancelled after we have already pre-flighted your files for print, and it has not been placed on a run, an $50 fee will be charged regardless of the size of your order. You will also be required to pay for a reprint with shipping as needed if you need to submit a new file.
An Email DOES NOT constitute cancellation under any conditions.
If I need help with my flyer or print job what can I do?
You can contact our design department via email at infoi@pkgraphics.com and coordinate/arrange for custom design services for your print job.
2) you can access some of our online resources, such as the templates section. Either way, you're likely to find what you need. If in doubt, give us a call and we will help you in achieving the best file possible for printing.
Should I put a border on my flyer?
We do not recommend borders or any of the designs. Gang run printed orders are printed and rushed daily in 24-48 hours which may vary in how the jobs are cut. Some borders may come out exact and some may not. Borders are only used as a last alternative for when your words are going to be cut.
Borders are not guaranteed to be even on all 4 sides after being cut, which means that the border may appear on 2 sides, 3 sides or maybe even 1 side. You are more than welcome to have your file printed as is with the border and taking on the responsibility of the outcome. PK Graphics will not be held responsible. If you would like to have them printed as is please submit an email to PRINT AS IS with your order number in the subject line
What is the minimum resolution?
All files must be submitted at a minimum 300 Resolution. Please note that the file must be created from scratch at 300 Resolution for it to print sharp. If the files is designed for example at 150 DPI Resolution and then converted to 300 DPI, your file will maintain the sharpness of the 150. Larger resolution files can be lowered in resolution but smaller files cannot be resized.
What is the minimum resolution or Banner / Large format orders?
Large format printing is digital and need to print at 150 DPI Resolution. If you have a banner that is 4ft x 6ft you will need to submit the file in inches (48 inches x 72 inches) at 150 DPI Resolution. These files can be submitted in RGB or CMYK Color.
If I have a large file to submit and I don't want to compress is, how else can I send it?
Option 1 is to make a "WE TRANSFER" account at www.wetransfer.com • After making an account you can then submit your large jobs to their website and then send us a link to download the files. Option 2 is to make a "DROP BOX" account at www.dropbox.com • After making an account you can then submit your large jobs to their website and then send us a link to download the files.
Will there be color variation between an order s placed on different dates?
Yes. Gang run printed orders printed with different clients, different colors and design every day. The person or flyer that lands next to you will never land again next to you on a different date. With this in mind, if you have an order that you know you will print a month from now without any changes, we suggest to print both orders together at one time instead of 1 order per month. This goes for companies that have multiple employees and are considering ordering business cards for each new employee. Try to gather as many as possible and submit them all at once..
Can PK Graphics print a custom size?
Yes we can print any size order up to 24in x 36in. Please note that each order is usually cut down a 1/16 of an inch from its original size. For example is you have a 5.25x6.75, we will then charge you for a 5x7 space on a gang run. The job will then be cut down to 5.125x6.625. If you are in need of an exact size the price may vary depending on the space you take up on the gang run sheet.
What are the terms for payment?
All orders will need to be paid in full before it is started with a credit card.
We do not offer a 15-30 Day Credit on any orders.
What shipping companies do you use?
We use UPS
Will I always receive the exact amount I paid for?
Pk Graphics usually prints your exact amount of flyers and a couple extras in the box. Industry standard allows us -10%/ + 10% for over under runs which occur when cutting. If you receive extras we will not charge you the extra amount. If you are short up to 10% we will not be able to refund you. By placing an order with us you are in agreement to these terms.
What is the policy on design orders?
Five sets of changes are included in the design fee. Additional design changes can be purchased if needed.
How should I set up a Spot UV job?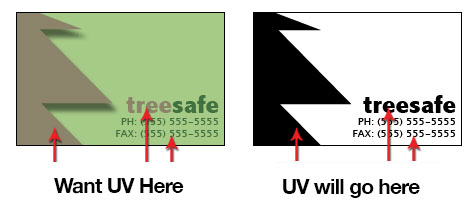 When creating a Spot UV job, You must include a Spot UV template file along with the regular full color file. The Spot UV template file is used to show where the UV will be placed.
Spot UV
Use 100% K (Black) to indicate where you would like the UV. White will indicate no UV.
Please note: Do not include the arrows pointing where you want the Spot UV
How should I set up a Booklet?
To understand how to setup a booklet Click Here
How do I apply for a tax exempt account?
For tax to be exempt on all orders, a valid and applicable Florida Resale Certificate form or Nonprofit Organization form must be submitted to info@pkgraphics.com for review. Once we have deemed that the forms are actually valid and applicable we will enable your account to be exempt from sales tax on all future orders. Until then you will have to pay sales tax and will not be refunded any sales tax on any orders prior to approval. A state tax license does not qualify as a resale certificate. You must be buying our products and reselling them to be eligible.
Please note: If you live outside the state of Florida you will not be charged sales tax.